Uzbek style pumpkin soup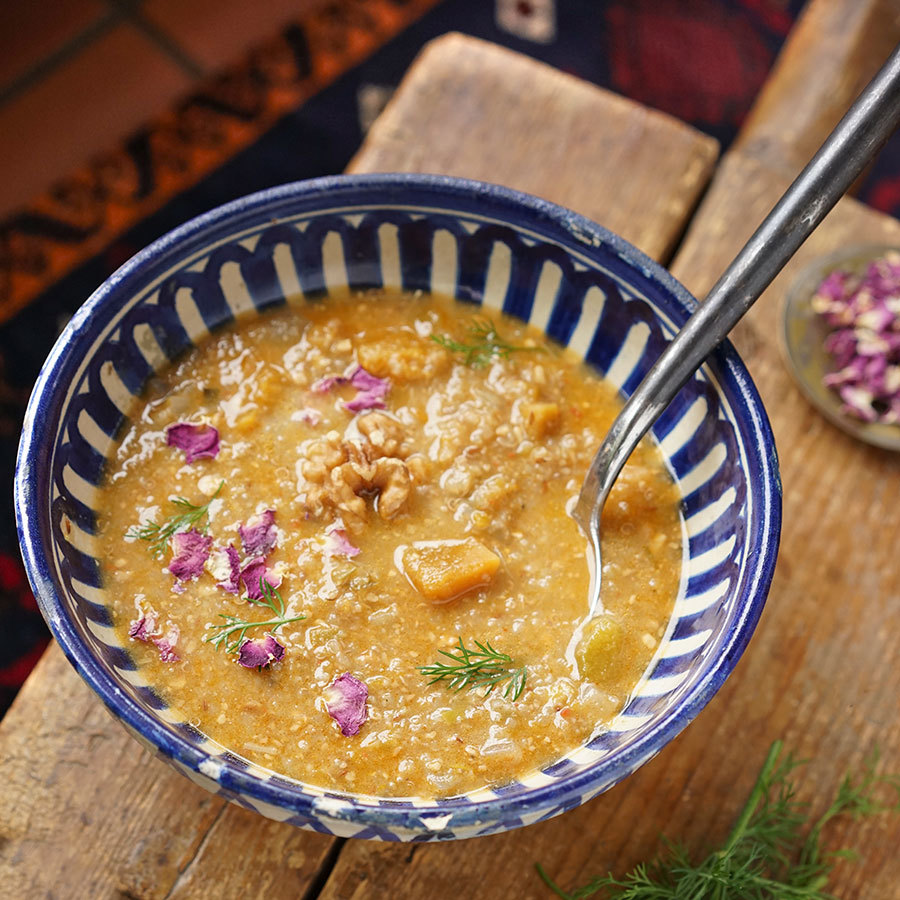 This soup has an unusual yet surprisingly flavorful fragrance and was inspired by a traditional recipe from the surrounding regions of the Caspian Sea.
Ingredients
¾ cup bulgur or white quinoa
1½ cup walnuts
¼ cup olive oil or clarified butter
2 onions, chopped
½ leek white, sliced
5 cups cubed pumpkin
2 Tbsp dry ginger, ground
1 4-inch cinnamon stick
2 Tbsp black Uzbek cumin seeds
1 Tbsp Korean pepper 
Salt and pepper to taste
12 cups vegetable stock or water
1 tsp rose petals or 1 tsp rose water 
¼ cup rice or rice flour (opt.)
1 Tbsp honey
1 Tbsp grated orange zest
Juice of 3 bitter oranges or 1 grapefruit + 1 orange
Garnishes
Rose petals
Choice of herbs
Walnuts
Method
1

Rinse the bulgur or quinoa under running water. Place in a bowl with 1 cup water.  


2

Grind walnuts finely, without reducing to a purée.



3

Put oil, onions and leeks in a large pot and soften without browning (5-7 minutes).


4

Add diced pumpkin, spices, salt and pepper. Mix and continue steaming for 5 minutes.



5

Pour in stock. Bring to a boil, add ground nuts and the bulgur or quinoa. Cook covered for 20 minutes.


6

For a thicker soup: grind rice into a powder using a coffee/spice grinder. Put a ladle of liquid from the soup in a bowl and incorporate powdered rice. Pour into the soup and mix well.



7

Add rose petals to soup. Continue cooking another 10 minutes.


8

Dilute soup if necessary and incorporate honey, orange zest and bitter orange juice.



9

Serve in bowls then garnish with rose petals, herbs and a walnut.