Valérie's Vegetable Gratin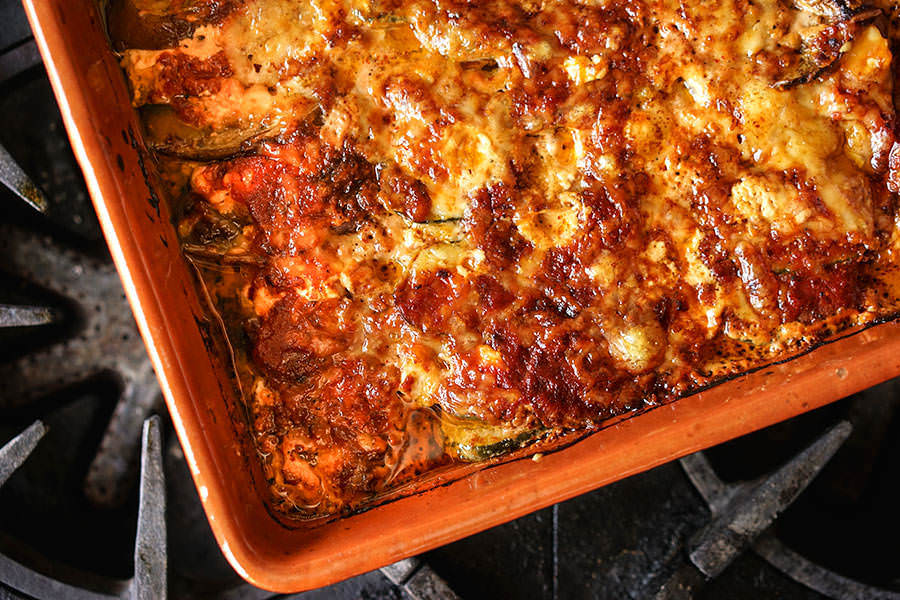 Valérie used to work with us in our store in the market. She loves to cook simple, delicious and comforting food. Her gratin- the spiced version- is inspired by a classic dish from her native France, ratatouille.
Ingredients
2 eggplant
2 zucchini
2 Tbsp salt
½ cup olive oil
4 cloves garlic, chopped
250 g fresh goat cheese
1 cup tomato coulis (tomato sauce)
2 tsp Aleppo Kebab spices, ground
150 g Gruyere, grated
Method
1

Wash and slice the eggplant and zucchini. Place in a large bowl and add the salt. Mix well and let drain for at least a half hour. Preheat oven to 350°.

2

Rinse the vegetables and pat dry with a paper towel.

3

Spread half of the oil on a deep baking pan. Sprinkle the garlic around the plate, then place the vegetable slices in a single overlapping layer (called "fish scale" style in French), while placing a small piece of goat cheese between each vegetable slice.

4

Stir the ground spices into the tomato sauce. Pour over the vegetables. Sprinkle the Guyere over the vegetables along with the remaining olive oil.

5

Roast in the oven until the vegetables are cooked and the cheese is golden and bubbly (+/- 1 hour).