Varsa's Aloo Gobi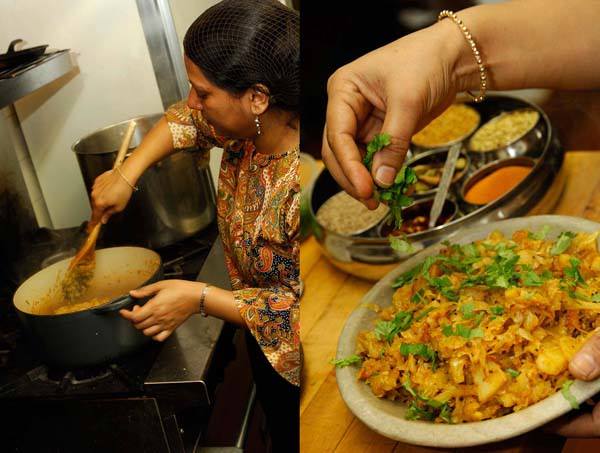 Aloo (Hindi for 'potatoes') Gobi ('cauliflower') is a classic Indian dish. This recipe is courtesy of Varsa, one of our colleagues at Spice Trekkers. She uses cabbage ('small gobi') in place of cauliflower. She prepares this dish on a regular basis for our staff dinners and we always come back for seconds.
Ingredients
1 large head green cabbage
5 medium potatoes (approx. 12 oz.), peeled and rinsed
8 Tbsp corn or other vegetable oil
1 Tbsp Brown Mustard Seeds
Salt, to taste

1 can tomato paste or 6 medium roma tomatoes
1 Tbsp Garam Masala, ground
3 Tbsp cilantro, chopped
Spice paste
Method
1

Core the cabbage and discard the rough outer leaves. Shred the cabbage into two-inch lengths. Rinse and dry well and set aside.

2

Cut the potatoes into quarters lengthwise and then into quarters crosswise. In a bowl, combine the cabbage with the potatoes. Set aside.

3

In a food processor or with a mortar and pestle, grind the garlic, green chilies and the ginger into a paste. Transfer the paste to a small bowl and add all the ground spices except for the garam masala.

4

Heat oil over medium heat for 30 seconds with whole red chilies. Add mustard seeds and fry gently until they begin to pop. Add ginger-garlic-spice paste and fry for 10 seconds. Add cabbage and salt to taste and stir well.

5

Cover and cook for 10-15 minutes, uncovering and stirring every few minutes until the potatoes are cooked. The potatoes should be easy to break in half with a wooden spoon.

6

Add tomato paste or tomatoes and stir well.

7

Add garam masala, stir well and continue cooking until the mixture begins sticking to the bottom and the vegetables become soft and flavorful (approx. 5-10 minutes).

8

Check salt and adjust if necessary. Transfer to a serving dish and garnish with cilantro.