Veal Cheeks with Tajine Spices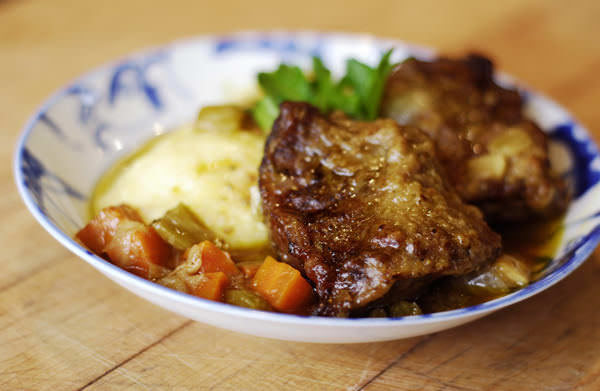 This truly is slow food.  You can easily substitute the veal cheeks by using veal shanks, shoulder cubes or  veal ribs.
Ingrédients
2 lbs/1kg veal cheeks
1 ½ Tbsp Tajine spices, ground
¼ cup flour
Salt and pepper
6 Tbsp olive oil
3 garlic cloves, chopped
½ cup onions, chopped
½ cup carrots, diced
1 branch of celery, diced
½ tsp lemon pepper, ground
1 branch of thyme
1 glass of Sherry or white wine
Method
1

Preheat the oven at 350ºF/175ºC.

2

Season the cheeks with the spices, salt and pepper.

3

Roll the cheeks in the flour.

4

Heat a large pan on medium heat and brown the cheeks on both sides (5 minutes) in the hot oil.

5

Place the veal in a heavy oven proof dish with a tight fitting lid.

6

Sauté the vegetables in the remaining oil for 5 minutes.

7

Pour in the Sherry, one glass of water, thyme and the lemon pepper.

8

Bring to a boil and pour over the veal cheeks.

9

Cover the oven proof pot and cook for 1 ½ to 2 hours at 350º F until the meat falls apart easily.