Veal stuffed mushrooms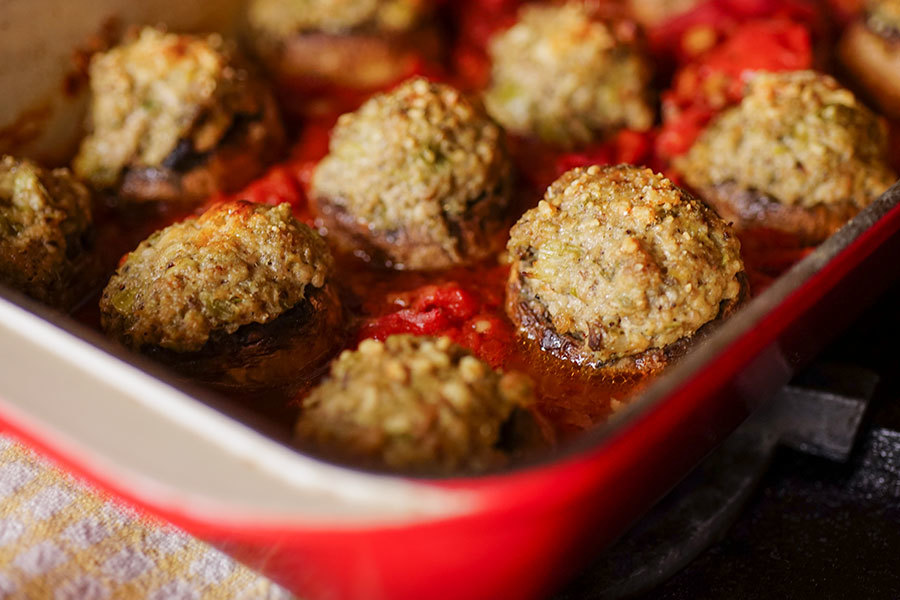 Cipâte is a northern Quebec meat pie made of wild meats and pork. The cipâte spice blend combines spice like cinnamon and nutmeg with various herbs and it can be used with any type of meat.

Tomato sauce
1 clove garlic, chopped
1 Tbsp olive oil
2 cups crushed tomatoes
½ Tbsp sugar
Salt to taste
Pepper to taste
Mushrooms
12 large button mushrooms
1 small leek, white part only
1 small stalk celery
1 Tbsp olive oil
½ lb ground veal
1 tsp Cipate Blend, ground
1 cup + 1 Tbsp parmesan cheese
Salt to taste
Method
1

Heat a pot on medium and sauté garlic in oil for 1 minute. Add tomatoes, sugar, salt, and pepper. Simmer for 30 seconds and set aside.

2

Remove stems from mushrooms and reserve caps. Chop mushroom stems, celery, and leek in a food processor.

3

Heat a pan on medium and sauté chopped vegetables in the oil for 6-8 minutes. Transfer to a plate or a small tray and cool.

4

In a large bowl, mix veal, spices, 1 cup parmesan and chopped vegetables. Salt and stir well.

5

Stuff the mushroom caps with the veal.

6

Pour sauce into an oven-proof dish. Place mushrooms on the tomato sauce and sprinkle with remaining parmesan.

7

Roast at 350 °F for 45 minutes.