Vegetable Soup with Couscous Spices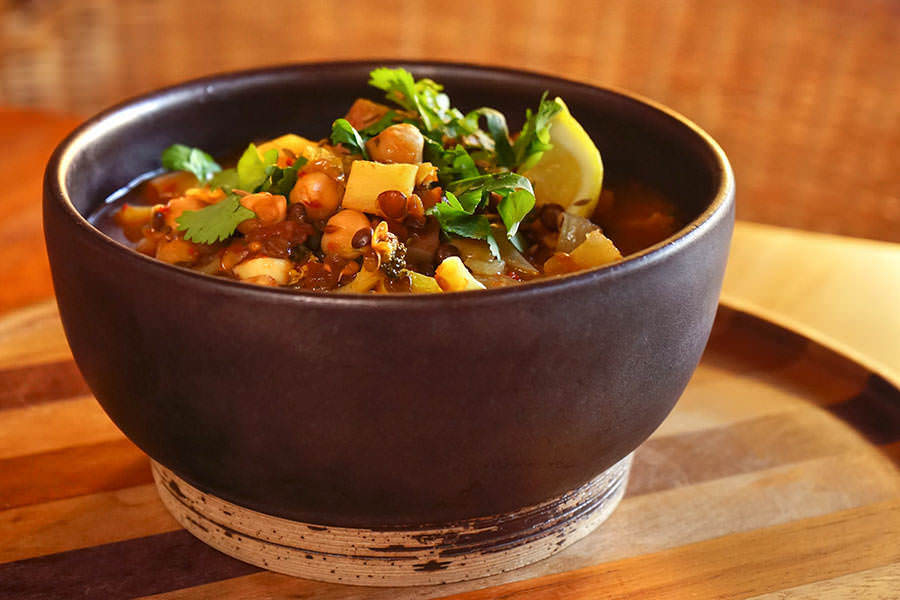 This recipe is ready in no time. You don't even need to sauté the ingredients at the beginning- you can just chop up the vegetables and add them as you go along.
Ingredients
8 cups chicken or vegetable stock
¼ cup tomato or Turkish chili paste
8 cups vegetables of your choice*
Salt and pepper, to taste
2 Tbsp Couscous spices, ground
½ cup olive oil
1 cup cooked lentils
1 cup cooked chickpeas
Garnishes
Cilantro, chopped
Lemon wedges
Toasted cumin
Harissa
Method
1

In a large pot, bring the stock to a boil. Add the tomato paste.

2

Chop the vegetables then begin adding the ones with the longest cooking times to the stock, and continue add them one at a time as the soup simmers along.

3

Add the salt, pepper, and couscous spices. Mix well and let simmer over medium heat for 20 minutes.

4

Add the olive oil, lentils, chick peas, and saffron. Cook for an additional 10 minutes or so.

5

Serve with the garnishes.
* Turnip, potatoes, tomatoes (fresh or canned), onion, cabbage, celery, broccoli, leek, zucchini, squash, etc.