Vegetarian Pipian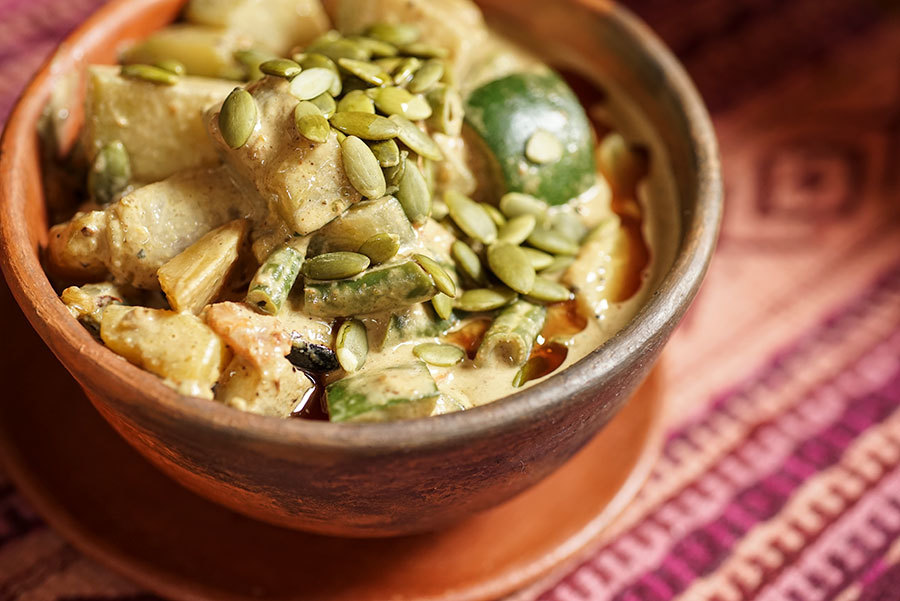 Pumpkin seeds are used in many parts of Mexico, such as this vegetable Pipian, a family dish typical of Mayan food.
Ingredients
24 small onions
6 cloves garlic
½ tsp oregano 
½ tsp black pepper
¼ tsp cinnamon
1 cup squash
1 chayote 
1 cup green beans
1 medium carrot
2 medium tomatoes, chopped
Salt and pepper to taste
1 cup pumpkin seeds
¼ habanero or other chile to taste
2 Tbsp pumpkin seed oil
Method
1

Heat a pan on medium-high. Place onions and garlic, unpeeled, in a pan and grill on all sides. Remove garlic when it's cooked. Remove onions a few minutes later when the skin is black. 

2

Meanwhile, grind spices and cube vegetables into 1-inch pieces. 

3

Peel and quarter the cooked onions. Place in a pot with tomatoes, 3 cloves garlic, vegetables and half the spices. Salt and pepper, then add ¾ cup water. Stir well. Bring to a boil and steam until the vegetables are tender (12-15 minutes). 

4

Meanwhile, toast pumpkin seeds in a pan until they start to crackle and smell. Set 3 tablespoons aside and place the rest in a food processor with remaining grilled garlic and chile. Reduce to a powder. 

5

When the vegetables are tender, add lemon juice to the food processor with pumpkin seed powder and grind until smooth. Pour the sauce in the pot and simmer for 2 minutes. 

6

Transfer vegetables to a platter. Serve garnished with pumpkin seeds and a splash of olive oil.