Vegetarian Pozole Rojo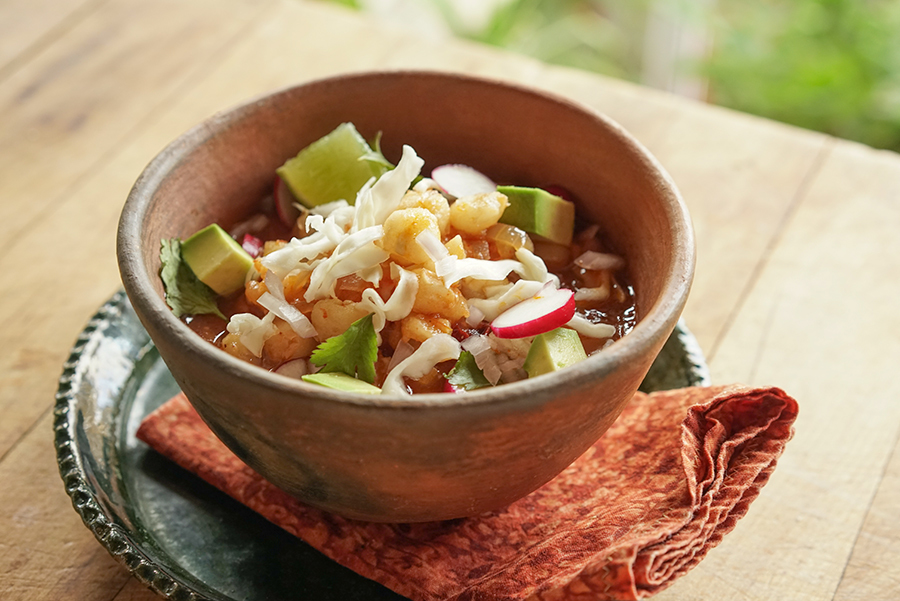 Pozole is a Mexican stew – much like a soup – made with large-kernel corn. Cans of corn, to make pozole, can be easily found in Latino groceries. This vegan version is seasoned with our Tacos Al Pastor spice blend, which makes it very aromatic, but not too hot. The garnishes make all the difference, so be sure not to leave them out!
Ingredients
2 large onions, chopped 
¼ cup olive oil 
2 cups tomatoes, cut in large cubes OR 2 cups canned tomatoes
4 garlic cloves 
2 Tbsp Tacos Al Pastor blend, ground 
1-750 ml can of corn, rinsed 
Salt to taste
Garnishes
Cabbage, thinly sliced 
Radishes, sliced 
Coriander, chopped
Red onions, chopped
Avocado, diced
Limes, wedged
Method
1

Heat a large pan on medium. Lightly sauté the onions in oil. Cook 5 minutes, stirring occasionally.
Meanwhile, put the tomatoes in a blender with the garlic cloves and liquefy.
Set aside.
Add the spices to the onions, once they've become golden and translucid. Mix well and cook for 30 seconds to infuse the spices. Pour in the tomatoes and bring to a boil. Simmer for 5 minutes.
Add the corn and its liquid, cook another 5 minutes. Taste and correct for salt, if necessary.
Let rest for 10 minutes before serving with the garnishes of your choice.