Vegetarian Tajine - Moroccan Braised Vegetables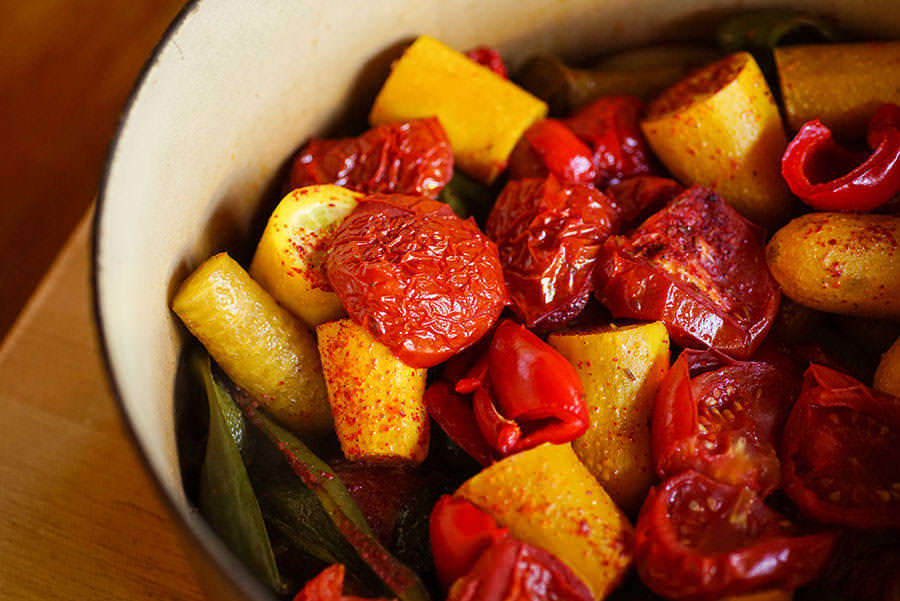 You can change the vegetable according to the season, but the method is always the same. The secret: Put the vegetables with the longest cooking time at the bottom of the tajine so they all cook evenly.
Ingredients
1 large onion or leek
2-3 potatoes
2 zucchinis
3 medium carrots
2 sweet green peppers
3 tomatoes
Salt
Black pepper, ground
1 Tbsp ground Moroccan pepper or paprika
2-3 bay leaves
¼ cup olive oil
20 green or purple olives
Method
1

Slice the onion or leek into very thin slices. Put into a thick-bottomed casserole.

2

Slice the rest of the vegetables into long pieces that are more or less even.

3

Put the vegetables and spices in the casserole little by little, starting with the potatoes.

4

Add the olive oil and 2 Tbsp water.

5

Cover and place on medium-low heat until steam starts to come out from under the lid. Turn down the heat if necessary.

6

Continue cooking for about 30 minutes until the vegetables are starting to simmer in their own juices (of course the cooking time varies according to the vegetables and your taste- adjust accordingly).

7

Add the olives about 10 minutes before cooking is finished.

8

Serve hot or room temperature.