Vermicelli and lentil rice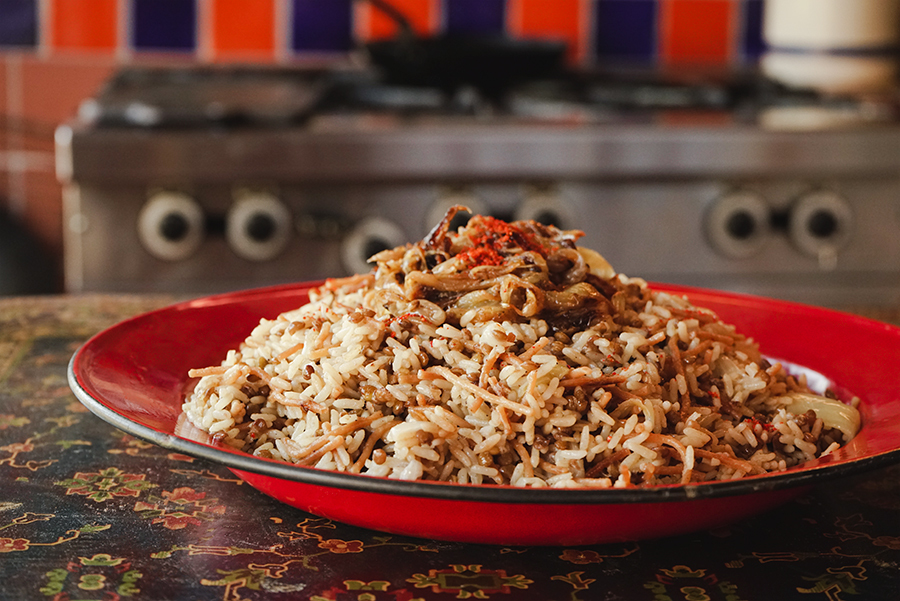 There are many dishes like this throughout the Middle East. Our recipe was inspired by mujedrah, a Jewish culinary classic from Aleppo in Syria. We suggest using dry lentils instead of the canned version, which will likely turn into a purée when cooked with the rice. 
Serve with mint and garlic yogurt or a good tomato sauce, then garnish with Aleppo pepper, to taste.  

Ingredients
1 cup small, dry lentils 
¾ cup olive oil 
60 gr. wheat vermicelli
4-5 large onions, sliced 
1 cup Turkish rice or parboiled rice
1 Tbsp cumin, ground 
2 tsp Aleppo Seven Spice, ground
Salt, to taste 
4 Tbsp butter 
Method
1

Cook the lentils in 6 cups of boiling water for 15 minutes to soften. Drain and set the cooking liquid aside.

2

Heat a large pan on medium. Add oil and sauté the vermicelli lightly until they become golden. Drain into a colander placed above a bowl to recuperate the oil. Set the vermicelli aside.

3

Pour the saved oil and onions into the pan and cook for at least twenty minutes, until the onions are well caramelized (add a bit more oil if needed). Leave one quarter of the onions in the pan and set aside the rest.  

4

Add the rice, ground spices and salt to the pan. Mix well and let simmer for 1 minute. Incorporate the vermicelli, lentils and 2 cups of cooking water from the lentils (add more water if necessary).

5

Bring to a boil, cover, reduce to low heat and cook for twenty minutes. Turn off the heat and let rest for 15 minutes before serving.