White Gazpacho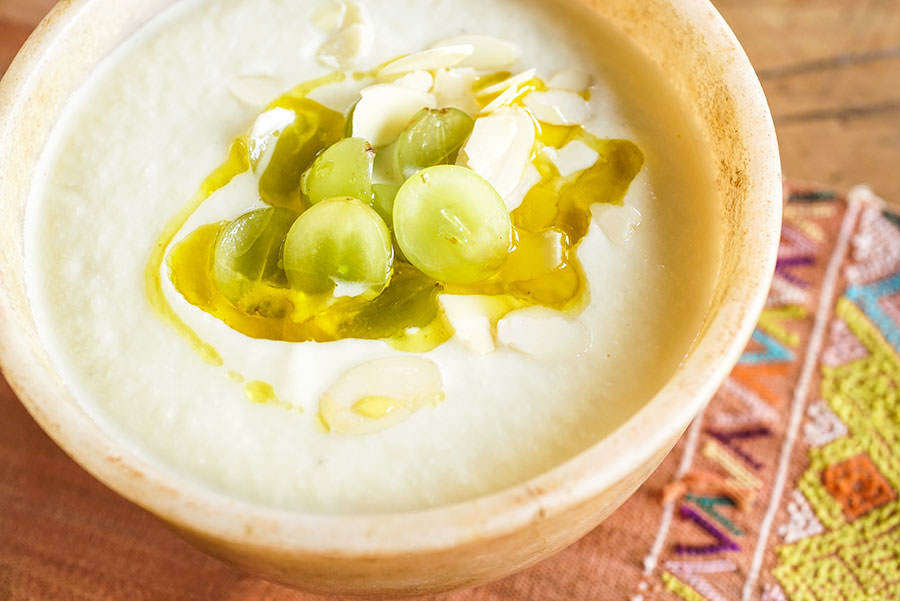 Cooked parsnip keeps for a long time in the fridge, so you can cook them up to 3 days ahead of time. You can roast them in the oven or just steam them. Once ready, this soup keeps for 24 hours in the fridge.
Ingredients
1 lb parsnip
2 Tbsp coconut oil
Salt to taste
2 cups blanched almonds
3 cloves garlic
2 cups ice cubes
3 Tbsp sherry vinegar or wine vinegar
6 Tbsp fruity olive oil
Salt and pepper to taste
1 cup green grapes, Muscat if possible
3 Tbsp almonds, chopped
Method
1

Peel parsnip and halve lengthwise. Rub with coconut oil, salt, and place on a baking tray. Roast in an oven heated to 350 °F until tender (30 to 45 minutes). Let cool or refrigerate before moving to the next step.

2

Put the parsnip, almonds, garlic, and ice in a blender. Reduce to a fine, creamy liquid. Add water if needed.

3

Incorporate vinegar and 4 Tbsp olive oil. Salt and pepper to taste. Place soup bowls in freezer for 30 minutes to chill them.

4

Halve and seed grapes. Pour Gazpacho into the chilled bowls and garnish with grapes, almonds and a few drops of olive oil.