Wild Meat Masalé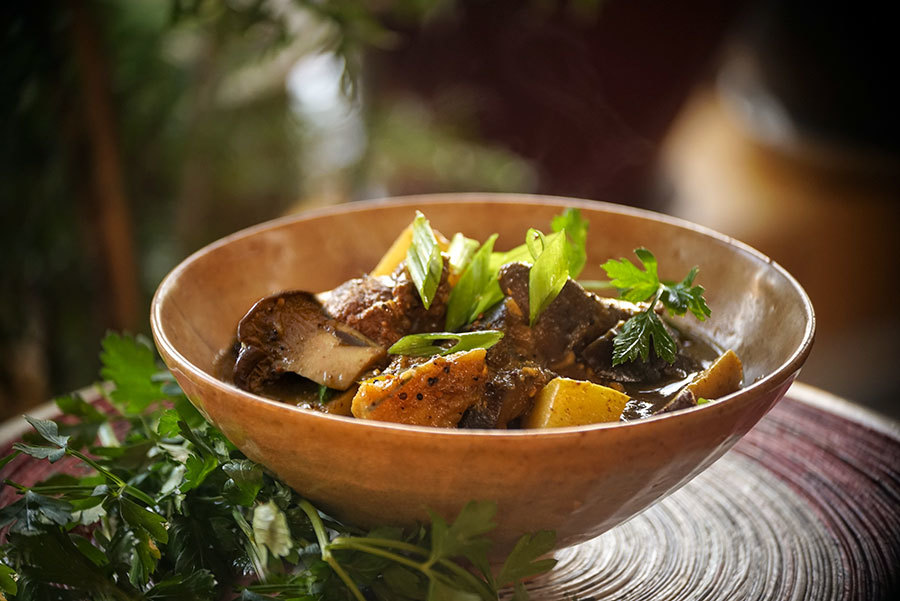 Game meat is excellent in curry, as this recipe demonstrates. Use elk, deer, wild duck, or even farm-raised game.
Ingredients
Salt to taste
10 dry curry leaves
4 Tbsp clarified butter
2 Tbsp mustard seed
2 onions, sliced
4 cloves garlic, chopped
1 Tbsp ginger, chopped
2 cups white wine
2 tsp tamarind
1 chayote or eggplant
½ lb mushrooms
½ tsp Garam Masala, ground
2 scallions, chopped
Method
1

Grind spices, except curry leaves, and place in a bowl. Salt and stir.

2

Soak curry leaves in 2 tablespoons of water.

3

Heat a thick-bottomed pot on medium. Add oil and heat fry mustard seeds for 5-10 seconds. Add drained curry leaves and onions. Sauté for 4-5 minutes.

4

Add garlic and ginger and sauté for 2 minutes. Add meat. Sauté for a few more minutes, until the oil starts to turn yellow and the cubes change color.

5

Add wine, tamarind, and a small glass of water to the pot. Stir well. Cover and simmer for 1 hour.

6

Peel and chop chayote into cubes that are roughly the same size as the meat. Add to the pot with mushrooms. Cover and simmer for 30 more minutes until the meat is tender. Add ground garam masala. Remove from heat and let stand at least 30 minutes before serving. Garnish with sliced scallions.