Wild Rice Salad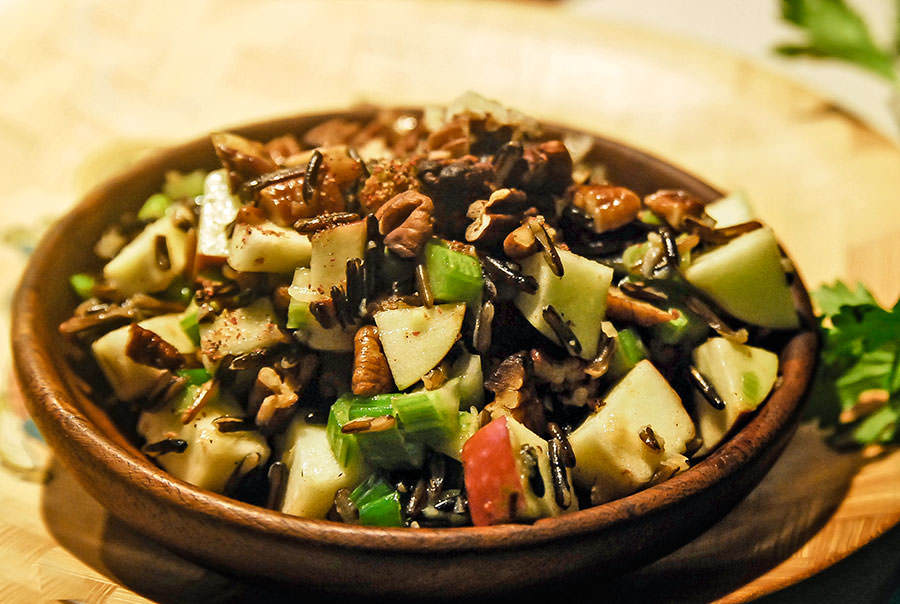 A hearty and delicious salad with a miso-maple-pepper dressing. Also great with other exotic peppers like Voatsiperifery or long pepper.
Ingredients
1 cup wild rice
4 cups water
3 Tbsp cider vinegar
2 cloves garlic, chopped finely
½ to 1 tsp miso or soya sauce
A few grains of cardamom, ground
½ tsp pink pepper, ground
½ tsp white pepper, ground
3 Tbsp maple syrup
1/3 cup sunflower oil
1 pinch salt, if desired
¼ cup celery, diced
½ cup apples, diced
½ cup chives or green onions, chopped finely
¾ cup roasted pecans
Method
1

Rinse rice.

2

In a saucepan, add water and rice.

3

Bring to the boil. Cover and reduce heat. Steam for 45 minutes to one hour, or until grains of rice are well cooked and plump without having burst.

4

Drain and rinse with cold water. Set aside.

5

In a bowl, combine vinegar, garlic, miso or soya sauce, peppers, cardamom and maple syrup. Whisk together.

6

Add rice, celery, apples, chives, and pecans to the vinaigrette. Mix together. Taste for seasoning and adjust if desired. Let stand one hour at room temperature before serving.