Wonderful salad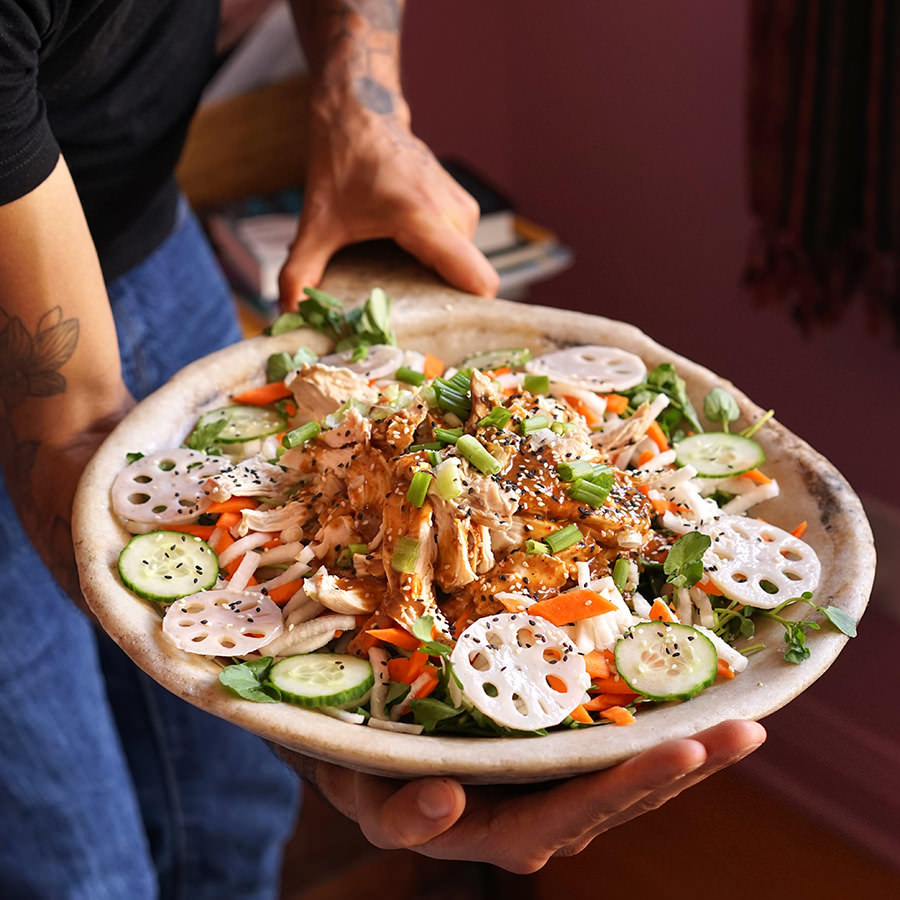 Arik and Philippe discovered this warm salad during a Sunday class at a Chinese cooking school. Arik was only 8 or 9 years old at the time; he begged to be let into the adult class. The teacher, a stern old Chinese man, gave his blessing. Arik's interest and effort won the respect of the other students that first class. On Sunday evenings, the boys made the meal - while practicing their lessons - for the ladies of the house. Over the years, the recipe has evolved but the name remains the same: Wonderful. Like good memories!
Ingredients
2 lbs bone-in chicken
½ lb daikon radish
1 large carrot
1 tsp salt
1 bunch watercress or 1 head lettuce
1 medium cucumber
3 scallions, julienned
4 Tbsp sesame seeds, toasted
½ tsp nigella
4 sprigs cilantro
Marinade
2 Tbsp sherry or vermouth
2 Tbsp coconut aminos
1 tsp Tianjin Preserved Vegetable
Salt pepper to taste
2 Tbsp ginger, sliced
4 scallions
Dressing
Method
1

Place chicken in a deep plate that will fit in a wok or pot. Season with marinade. Let marinate 30 minutes (if you have time). Place plate on a steamer over boiling water. Cover the wok or pot and cook for 30 minutes.

2

Make sure chicken is cooked (with a small knife). Meat should be white without a trace of pink. Cook for a few more minutes, if needed.

3

While chicken is cooking, cut daikon and carrot into 3-inch juliennes. Place in a bowl, salt and mix. Let stand.

4

Place chicken on a plate; discard ginger and scallions.

5

Strain chicken juices into a small pot. There should be about one cup of juice; add water if needed.

6

Bring to a boil and incorporate honey, vinegar, chile, Sichuan peppercorn and sesame oil. Incorporate tahini; stir continuously. Dressing should be velvety and creamy. Thicken with more tahini or dilute with a little water if needed. Add garlic, then taste; add salt or vinegar to your plate.

7

Place watercress on a large plate. Rinse and drain the carrot and daikon on a paper towel; place on the watercress. Shred chicken with two forks. Place on top of vegetables.

8

Pour dressing over chicken. Slice cucumber and place around the plate. Decorate with scallions, sesame, nigella and cilantro.