Yucatan puchero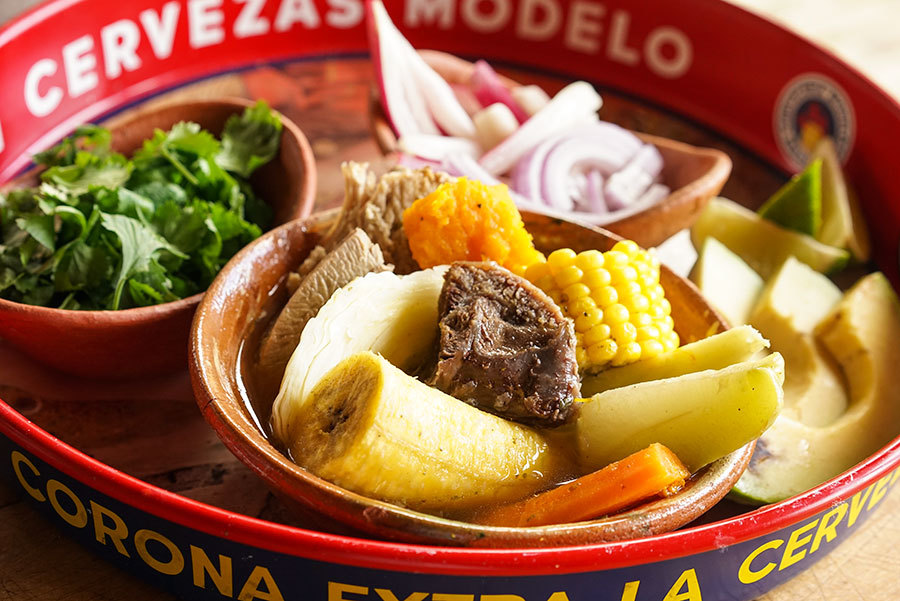 We chose to leave out the chickpeas that are traditionally in this puchero recipe. If you like, add two cups of chickpeas towards the end of cooking.
Ingredients
2 lb bone-in beef shank
2 lb pork shoulder
1 turkey drumstick or 3 chicken drumsticks
1 head garlic
1 onion
1 tsp cinnamon, ground
12 black peppercorns, ground
1 tsp oregano
1 bunch cilantro
3 Tbsp dried mint
Salt to taste
1 chayote
2 large carrots
½ squash
¼ green cabbage
3 ears corn (opt.)
2 sweet potatoes
1-2 green plantains
Garnishes
1 cup radishes, sliced
4 limes, quartered
1 avocado, cubed
1 red onion, chopped
Salsa
Method
1

Rinse beef, pork and turkey in cold running water. Place them in a large pot with 20 cups of water. Bring to a boil. If you use chicken instead of turkey, add after cooking for 45 minutes.

2

Grill onion and garlic in a dry pan on medium-high heat. Skim the stock when it comes to a boil. Add onion and garlic when they are well-cooked. Add spices and the stems from the cilantro and mint. Salt to taste and simmer for around 1½ hours.  

3

Remove the cilantro, onion and garlic from the pot. Add raw vegetables, starting with the ones that take the longest to cook like carrots and plantains.

4

Add tender vegetables 15 minutes later. Remove from heat when vegetables are cooked.

5

Serve in bowls. Garnish with radish, cilantro, avocado, onion and lime quarters. Salt if needed. Serve with salsa.