Yunnan Braised Turkey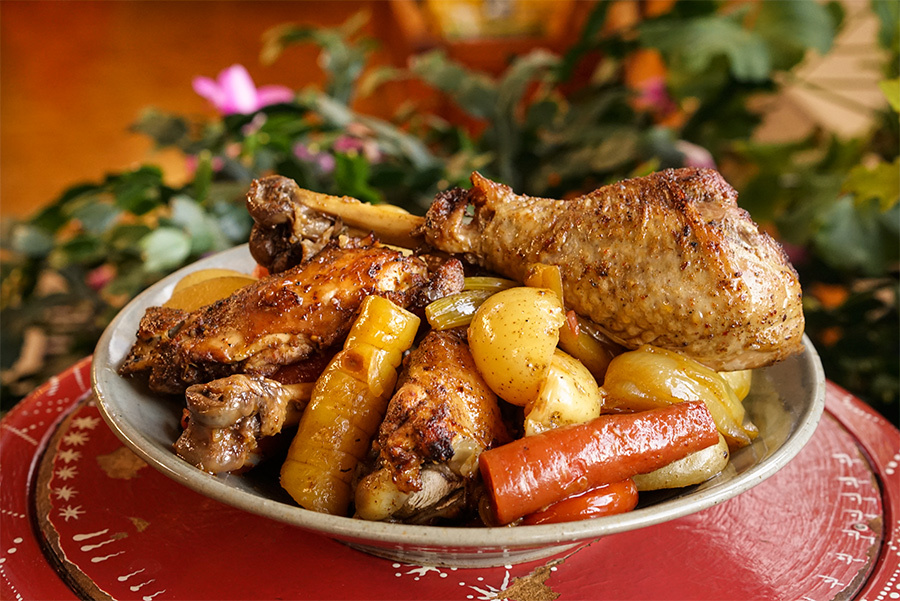 The wonderful braised dishes of the Muslim ''minorities'' in Yunnan are usually made from mutton, beef or chicken and have greatly influenced this recipe. Turkey- despite its low cost- is rarely eaten in China. We think that it's quite appropriate for this type of dish as it will remain tender and succulent. 
Add 1 cup of olives and ¼ cup each of capers and raisins at the same time as the potatoes and you will have a dish worthy of a holiday feast.
Ingredients
1½ Tbsp Yunnan Spice Blend

---
¾ Tbsp Garam masala
---
1 Tbsp cumin
---
2 slivers of cinnamon sticks
---
1 tsp sea salt
---
5 garlic cloves, chopped
---
1 slice ginger
---
3 Tbsp olive oil
---
4½ lbs turkey wings and drumsticks
---
3 medium carrots
---
2 onions
---
2 tomatoes
---
2 celery branches
---
1 glass Sherry or white wine
---
3 cups chicken stock or water
---
4 Tbsp dark soy sauce
---
4 medium potatoes, washed
Method
1

Preheat oven to 375°F. Grind the spices in a mortar; add salt, garlic and ginger. Pound into a purée, blending in the olive oil.


2

Rub this spice paste on the pieces of turkey. Place in a braising dish and cook uncovered in the oven for 30 minutes.

3

Clean and cut the carrots, onions, tomatoes and the celery into large chunks, then add them to the pan. Cook 15 minutes more.

4

Boil the stock, Sherry and soy sauce and add to the pan. Cover and reduce heat to 275°F. Cook for another 1½ hours.

5

Cut the potatoes into large cubes and add to the pan. Cook uncovered for another 30 minutes and serve.