Celery root Zeytinyagli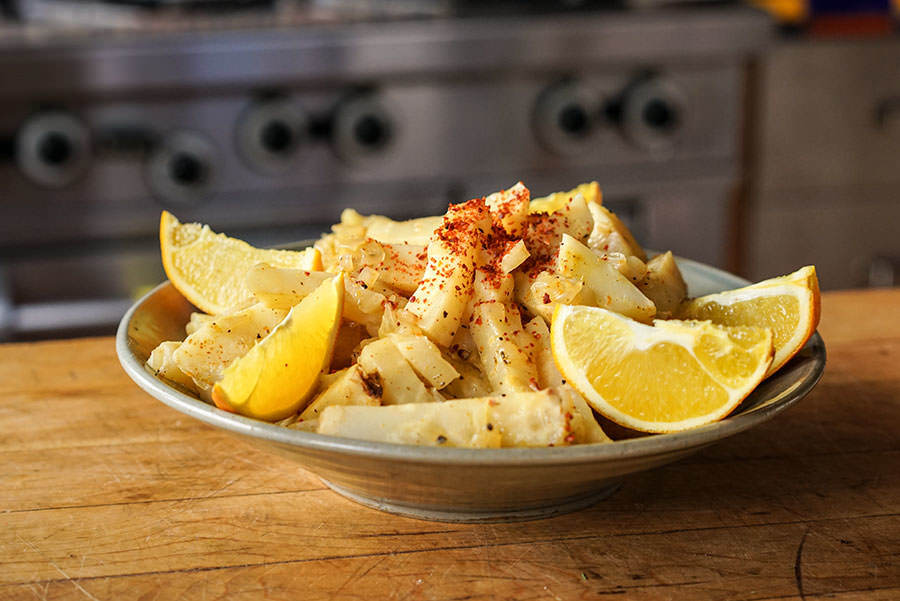 Zeytinyagli is a dish made from vegetables cooked slowly in a generous amount of olive oil until they almost confit. In Turkey, they're usually eaten as a mezze, at room temperature. They're dishes that require little work and also make great sides.
Ingredients
1 medium celery root
1 medium onion, chopped
2 oranges
½ cup olive oil
3 Tbsp wine vinegar
1 tsp tarragon
Salt and ground pepper to taste
1 tsp Aleppo pepper

Method
1

Peel celery root and slice into large matchsticks.

2

Place the celery root sticks in a pot with the chopped onion. Grate zest of 1 orange on top. Add orange juice. Keep other orange for garnish.

3

Add olive oil, wine vinegar, tarragon, salt, pepper and ¼ cup of water. Bring to a boil and reduce heat to medium.

4

Cook for 20 minutes. Remove cover and simmer, uncovered, until celery root is tender and falling apart, and the juice is reduced, 15-20 minutes.

5

Remove from heat and let stand at least an hour in the pot. Serve at room temperature, garnished with orange quarters and a little Aleppo pepper.