Leek zeytinyagli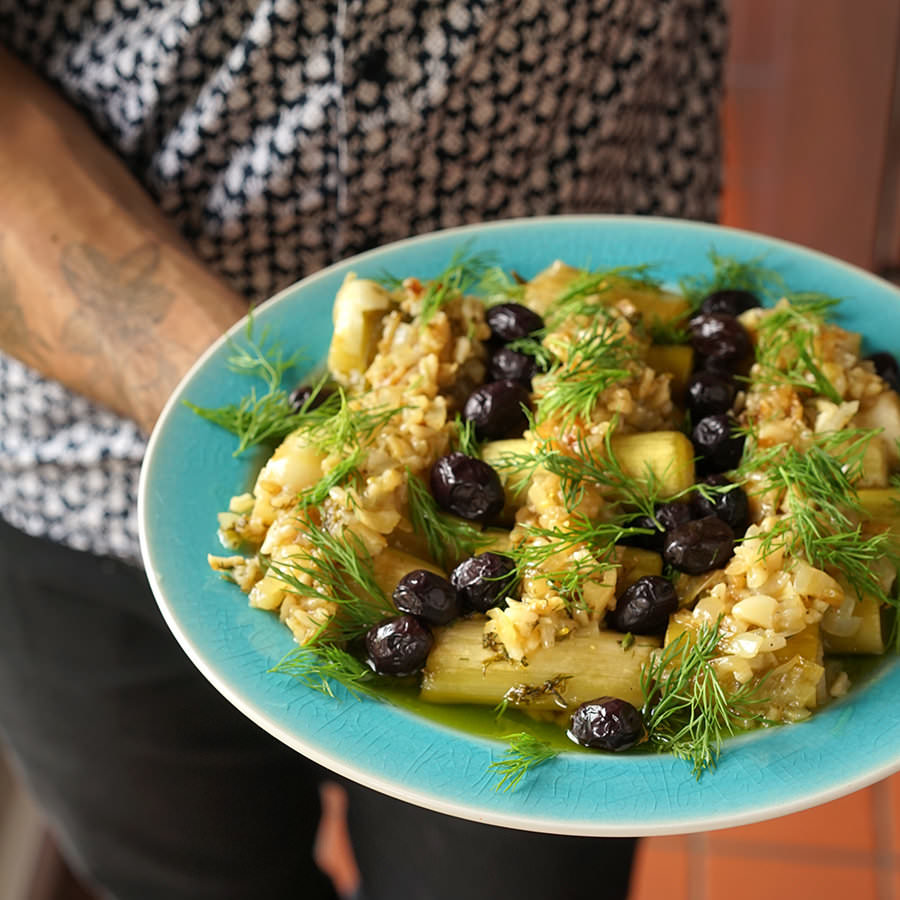 In Turkey, this dish is usually served at room temperature with other mezze as an hors d'oeuvre. Like most zeytinyaglis, the leeks keep for several days in the fridge. Take them out an hour before serving to warm up.
Ingredients
8 small or 4 large leeks
---
1 onion, chopped fine
---
6 cloves garlic, chopped fine
---
½ cup olive oil
---
½ tsp coriander seed, ground
---
3 tbsp lemon juice
---
Salt and pepper, ground, to taste
---
1 tbsp rice
---
Zest of 1 lemon
---
½ cup chicken stock or water
---
1 tbsp sugar or honey
---
1 small bunch dill
Method
1

Remove leek greens, as well as roots and outer layer if necessary; wash thoroughly under running water to remove dirt. Chop the leeks into large segments (reserve leek greens for a soup or stock).

2

Place remaining ingredients, except dill, in a large pot. Place the leeks on top.

3

Bring to a boil. Cover and reduce heat to very slow. Simmer for 20 minutes. Chop dill; separate stems and leaves. Remove lid and add chopped dill stems (reserve tender leaves for garnish).

4

Remove from heat and let stand at least an hour in the pot. Garnish with dill leaves and serve at room temperature.